You've raised a problem with support - now what?
Our support team works by taking the most urgent issues at hand so depending on the priority of your problem that you've just raised, this may be investigated straight away or may take longer and it will just be determined based off the severity of the reported problem.
All problems raised gets an initial investigation to assess the prioritisation of the reported problem. From here, our support team will let you know about it as well as any future updates on that ticket.
Here is an image of our priorities we have and a few examples in them: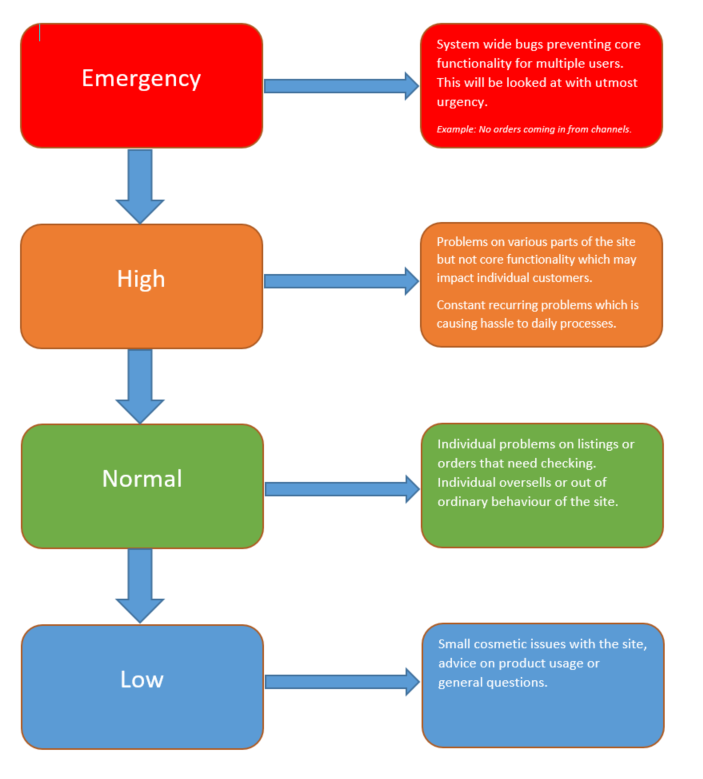 There are exceptions and caveats to each priority. For example, things marked as normal priority tend to be because there will be viable workarounds. 
An individual SKU overselling can have multiple potential causes, not all of which can be fixed by ChannelGrabber alone. Full list available here.
Individual listing errors on the products page - these tend to have an error searchable on our Knowledgebase or via Google. 
An alternative option as well if it's just one particular SKU error is to list on the channel directly and reimport for stock management.
Please note that if you feel that a problem has been prioritised incorrectly, do let our support team know with the reason and the impact to your business and we may reassess the situation depending on the current queue at the time.